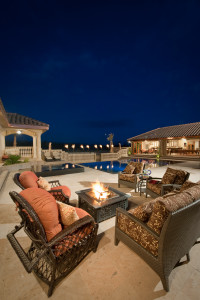 Because you've reached the point at which you're no longer willing to compromise, Our Company is ready to transform your property into a private retreat with all the amenities of an exclusive resort. We specialize in creating distinctive, one-of-a-kind outdoor living environments that seamlessly integrate all elements to complement the unique features of your land and the architectural style of your home.
The difference that a truly custom-designed pool and surroundings achieves is profound. From spending a leisurely afternoon of family fun in the relaxing cool water, to hosting a casually sophisticated al fresco evening dinner for friends centered around a seamlessly intergraded summer kitchen, you'll experience a new dimension of living that dissolves stress and refreshes the body, mind and spirit.
Our pools engage the senses through distinctive design and such premium features as natural or artificial stone waterfalls, dramatic fire pits, specialty finishes, beach entries and innovative edges- such as the elegant infinity edge and the stylish perimeter overflow, where the water level in the pool is the same as the top of the decking. We have access to a wide variety of first-quality vendors to give you as many options as possible for a pool environment that fully reflects your individuality.
Every member of Our Company shares your resolve to never compromise because we know that it's not about building pools – it's about creating a lifestyle – your lifestyle. We look forward to arranging a personal visit to your home and discussing how we can help take your home to the next level of luxury.